Dora Maar
Tate Modern
Bankside
London SE1 9TG
https://www.tate.org.uk/
20 November 2019 – 15 March 2020
Open daily 10.00 – 18.00 and until 22.00 on Friday and Saturday
For public information call +44(0)20 7887 8888, visit tate.org.uk or follow @Tate #DoraMaar

Tate Modern presents the first UK retrospective of the work of Dora Maar (1907–97) whose provocative photographs and photomontages became celebrated icons of surrealism. Featuring over 200 works from a career spanning more than six decades, this exhibition shows how Maar's eye for the unusual also translated to her commercial commissions, social documentary photographs, and paintings – key aspects of her practice which have, until now, remained little known.

Born Henriette Théodora Markovitch, Dora Maar grew up between Argentina and Paris and studied decorative arts and painting before switching her focus to photography. In doing so, Maar became part of a generation of women who seized the new professional opportunities offered by advertising and the illustrated press. Tate Modern's exhibition opens with the most important examples of these commissioned works. Around 1931, Maar set up a studio with film set designer Pierre Kéfer specialising in portraiture, fashion photography and advertising. Works such as The years lie in wait for you c.1935 – believed to be an advertising project for face cream that Maar made by overlaying two negatives – reveal Maar's innovative approach to constructing images through staging, photomontage and collage. Striking nude studies such as that of famed model Assia Granatouroff also reveal how women photographers like Maar were beginning to infiltrate relatively taboo genres such as erotica and nude photography.

Dora Maar, 1907-1997
The years lie in wait for you c. 1935
Photograph, gelatin silver print on paper 355 × 254 mm
The William Talbott Hillman Collection
© ADAGP, Paris and DACS, London 2019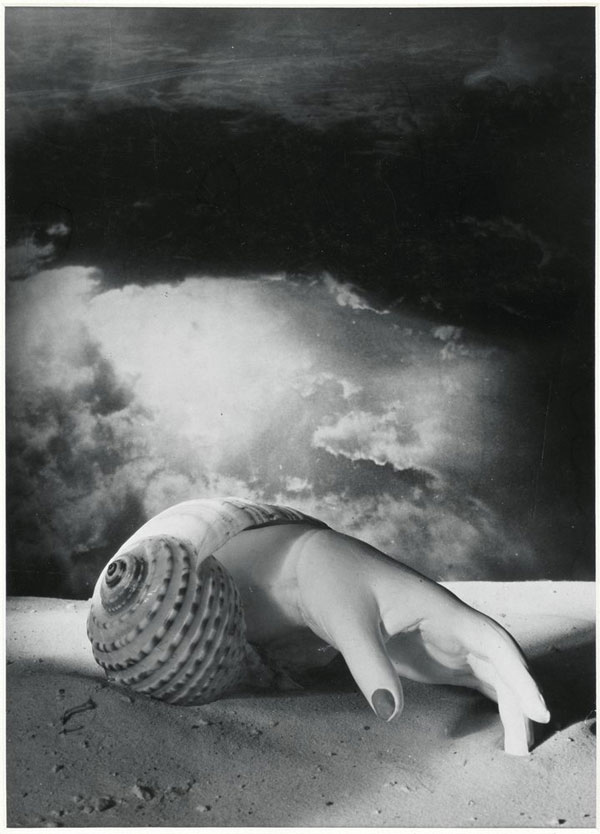 Dora Maar Untitled (Hand-Shell) 1934. Centre Pompidou, Musée national d'art moderne,
Paris Photo © Centre Pompidou, MNAM-CCI, Dist. RMN-Grand Palais /
image Centre Pompidou, MNAM-CCI © ADAGP, Paris and DACS, London 2019
During the 1930s, Maar was active in left-wing revolutionary groups led by artists and intellectuals. Her street photography from this time shot in Barcelona, Paris and London captured the reality of life during Europe's economic depression. Maar shared these politics with the surrealists, becoming one of the few photographers to be included in the movement's exhibitions and publications. A major highlight of the show are the outstanding examples of this area of Maar's practice, including Portrait of Ubu 1936, an enigmatic image thought to be an armadillo foetus, and the renowned photomontages 29, rue d'Astorg c.1936 and The Pretender 1935. Collages and publications by André Breton, Georges Hugnet, Paul and Nusch Eluard, and Jacqueline Lamba place Maar's work in context with that of her inner circle.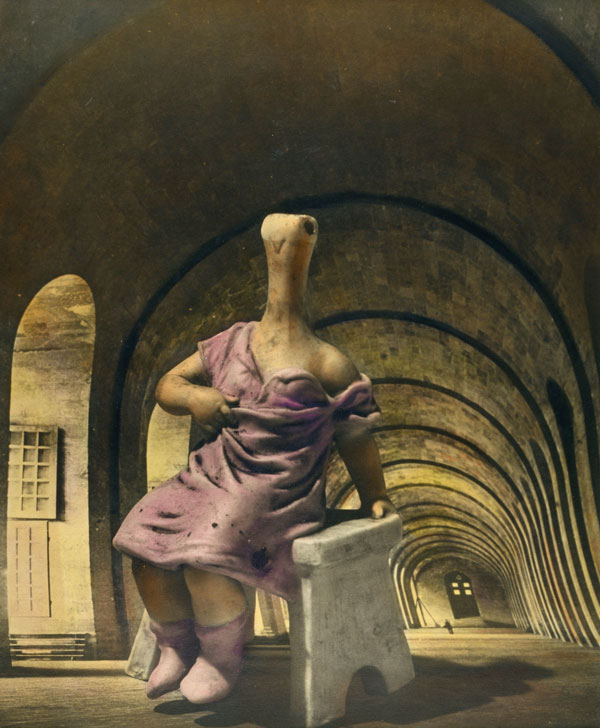 Dora Maar, 1907-1997
29 rue d'Astorg c.1936 Photograph, hand-coloured gelatin silver print on paper 294 x 244 mm
Collection Centre Pompidou, Paris.
Musée national d'art moderne Centre de création industrielle
Photo © Centre Pompidou, MNAM-CCI / P. Migeat / Dist. RMN-GP© ADAGP, Paris and DACS, London 2019
In the winter of 1935–6 Maar met Pablo Picasso and their relationship of around eight years had a profound effect on both their careers. She documented the creation of his most political work Guernica 1937, offering unprecedented insight into his working process. He in turn immortalised her in the motif of the 'weeping woman'. Together they made a series of portraits that combined experimental photographic and printmaking techniques, anticipating her energetic return to painting in 1936. Featuring rarely seen, privately-owned canvases such as The Conversation 1937 and The Cage 1943, and never-before exhibited negatives from the Dora Maar collection at the Musée National d'art Moderne, the exhibition sheds new light on the dynamic between these two artists during the turbulent wartime years.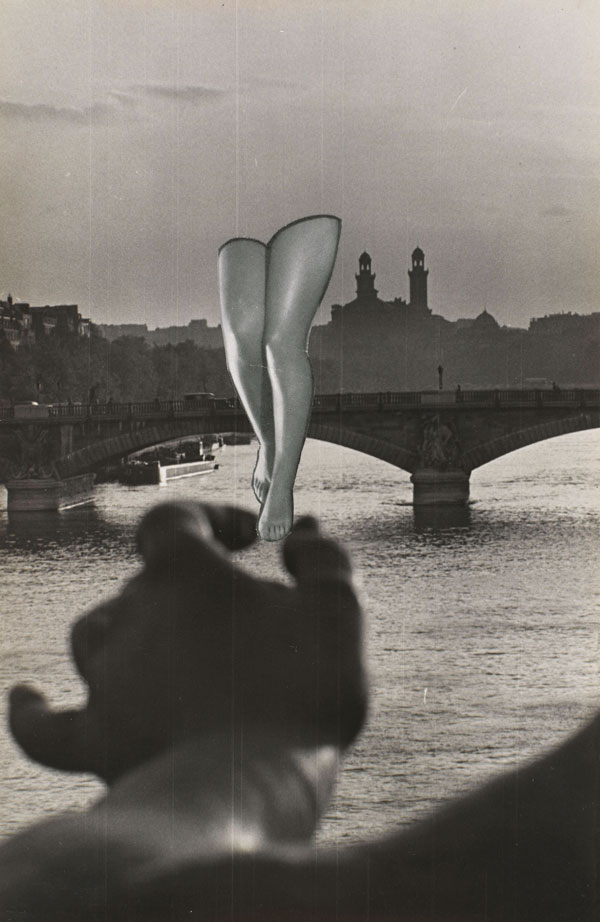 Dora Maar, 1907-1997
Untitled 1935Photomontage 232 x 150 mm
Photo © Centre Pompidou, MNAM-CCI /
P. Migeat / Dist. RMN-GP© ADAGP, Paris and DACS, London 2019
After the Second World War, Maar divided her time between Paris and the South of France. She explored diverse subject matter and styles before focusing on gestural, abstract paintings of the landscape surrounding her home. Though these works were exhibited to acclaim in London and Paris into the 1950s, Maar gradually withdrew from artistic circles. As a result, the second half of her life became shrouded in mystery and speculation. The exhibition reunites over 20 works from this little-known – yet remarkably prolific – period. Dora Maar concludes with a substantial group of camera-less photographs that she made in the 1980s when, four decades after all but abandoning the medium, Maar returned to her darkroom.
Dora Maar is curated by Karolina Ziebinska-Lewandowska, Curator, Centre Pompidou, Paris, Damarice Amao, Assistant Curator, Centre Pompidou, Paris and Amanda Maddox, Associate Curator, the J. Paul Getty Museum, Los Angeles with Emma Lewis, Assistant Curator, Tate Modern. The Tate Modern presentation is curated by Emma Lewis, Assistant Curator with Emma Jones, Curatorial Assistant, Tate Modern.
The exhibition will be accompanied by a fully-illustrated catalogue jointly published by Tate and the J. Paul Getty Museum and a programme of talks and events in the gallery.