On view October 8, 2023–January 15, 2024

BOSTON (August 9, 2023) - John Singer Sargent (1856–1925) brought his sitters to life, but he did much more than simply record what appeared before him. He pinned and draped, he changed or ignored decorative details, and sometimes he simply made it up. Organized by the Museum of Fine Arts, Boston (MFA), and Tate Britain, Fashioned by Sargent explores the artist's influence over his sitters' images by illuminating the liberties he took with sartorial choices to express distinctive personalities, social positions, professions, gender identities and nationalities. The exhibition features approximately 50 paintings by Sargent—including major loans from museums and private collections around the world—along with more than a dozen dresses and accessories. Several of these garments are reunited for the first time with Sargent's portraits of the sitters who once wore them. Through the lens of dress, Fashioned by Sargent presents exciting new scholarship and offers a new perspective on the artist's creative practice.

Fashioned by Sargent is sponsored by Bank of America. Generously supported by the Terra Foundation for American Art, and Tom and Bonnie Rosse. Additional support from Lynn Dale and Frank Wisneski, the Barbara M. Eagle Exhibition Fund, the MFA Associates / MFA Senior Associates Exhibition Endowment Fund, the Dr. Lawrence H. and Roberta Cohn Fund for Exhibitions, and the Alexander M. Levine and Dr. Rosemarie D. Bria-Levine Exhibition Fund. Fashioned by Sargent is co-organized by the Museum of Fine Arts, Boston, and the Tate Britain, London.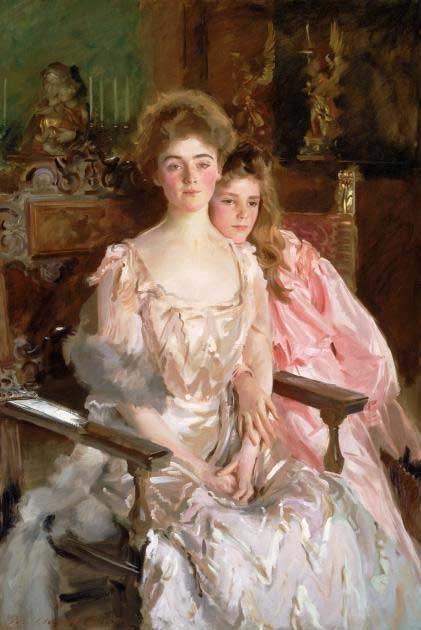 John Singer Sargent, Mrs. Fiske Warren (Gretchen Osgood) and Her Daughter Rachel, 1903
Oil on canvas. Gift of Mrs. Rachel Warren Barton and Emily L. Ainsley Fund.
"The MFA and Tate Britain both began supporting John Singer Sargent during his lifetime, and we're proud to partner on this major exhibition that offers new perspectives on this beloved painter," said Matthew Teitelbaum, Ann and Graham Gund Director. "Sargent's world, much like our own, was aware of the power of an image to mask reality and invent new narratives and identities. Fashioned by Sargent encourages us to think deeply about the creation of a portrait— how it affects both how we see others and how the world sees us."

Following its presentation at the MFA from October 8, 2023 through January 15, 2024, the exhibition will travel to Tate Britain, where it will be on view from February 21 through July 7, 2024.

Timed-entry exhibition tickets, which include general admission, are required for all visitors and can be reserved in advance on mfa.org or purchased at the Museum. Member Preview for Fashioned by Sargent takes place October 4–7.
"Through the dynamics of dress, we can see that Sargent did not pander to his wealthy clients—he was in charge, and art making always came first," said Erica E. Hirshler, Croll Senior Curator of American Paintings and exhibition organizer. "He clearly took the lead in creating his portraits, sometimes entirely ignoring his patron's preferences to fulfill his own creative vision. Sargent controlled the sitter's image."
The exhibition is organized thematically, providing a dramatic glimpse into the world of the painter, the studio, his sitters and his technique:
"The Studio in Black and White" reveals Sargent's studios as sites of imagination. It explores his preference for painting sitters wearing black or white, inspired by 17th-century painters Frans Hals and Diego Velázquez, and demonstrating his mastery of difficult techniques.

"The Art of Dress" explores the role of fashion for women in society, and the way Sargent engineered his sitters' choices to best serve his art.

"Sporting with Gender" shows how Sargent used sartorial choices to signal gender ambiguity, tradition and the shifting roles accorded to men and women of the period.

"Portraiture and Performance" includes subjects in dramatic costumes, among them Sargent's portrayal of Ellen Terry as Lady Macbeth (1889, Tate Britain), which is displayed for the first time with the brilliant green beetle-wing encrusted gown that she wore on stage.

"Fashioning Power" emphasizes how clothing—whether uniform, ceremonial attire or even a deliberate choice of casual dress—can signify wealth and position.

"Outside Fashion" closes the exhibition with a demonstration of Sargent's fascination with the ways textiles could be manipulated—folded, twisted and draped—to explore light and shadow.
In addition to style icons like Madame X (1883–84, The Metropolitan Museum of Art) and Lady Agnew of Lochnaw (1892, National Galleries of Scotland), major loans include Lady Sassoon (1907, Private Collection) and her black taffeta opera cloak (Private Collection); Lady Helen Vincent,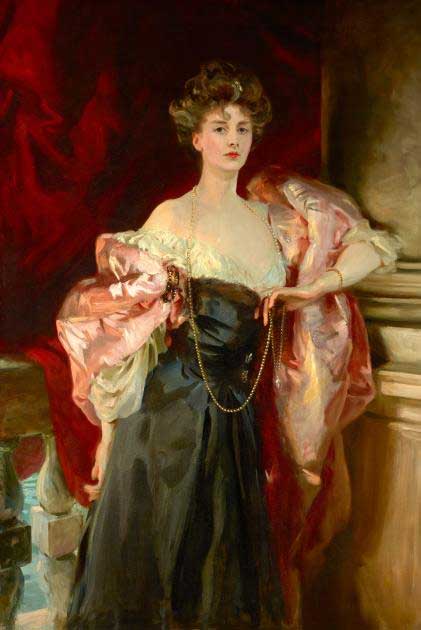 John Singer Sargent, Lady Helen Vincent, Vicountess d'Abernon, 1904
Oil on canvas. Collection of the Birmingham Museum of Art. Museum purchase with funds provided by John Bohorfoush, the 1984 Museum Dinner and Ball, and the Museum Store. 1984.121.
Viscountess D'Abernon (1904, Birmingham Museum of Art), which was treated in the MFA's Conservation Center for display in the exhibition; La Carmencita (about 1890, Musée d'Orsay), shown for the first time alongside the dancer's sparkling yellow satin costume; the striking portrait of Elsie Palmer (1889–90, Colorado Springs Fine Arts Center); and Dr. Pozzi at Home (1881, Hammer Museum), which shows the accomplished surgeon in a flowing red dressing gown and Turkish slippers.

Fashion items including Worth gowns and fans and six paintings by Sargent are drawn from the MFA's own collection, which numbers almost 600 works by the artist in all media—the most comprehensive assemblage of his art in a public institution—and includes the John Singer Sargent Archive. Sargent claimed both Boston and London as his home, and together, the MFA and Tate Britain have served as guardians of the artist's legacy.

John Singer Sargent

Born in 1856 in Florence, Italy, to two American parents, John Singer Sargent was recognized as a talented artist from a young age. His mother was an avid traveler, curious about the world, and his father was a doctor with roots in Gloucester and Philadelphia. Sargent had a cosmopolitan childhood: he was immersed in European art and culture, speaking French, Italian, and German in addition to English. He studied briefly at the Accademia di Belle Arti in Florence, and at the age of 18 enrolled at the Ecole des Beaux-Arts, Paris, and entered the independent atelier of the portrait painter Carolus-Duran. Sargent exhibited regularly at the Paris Salon from 1877, establishing his own studio in Paris until 1886, when he moved to London. Sargent became the leading portrait painter of his generation, producing 900 oil paintings, 2,000 watercolors, and countless sketches. By the mid-1900s he left his portrait work and concentrated on large-scale mural commissions for the Boston Public Library; Harvard University's Widener Library; and Museum of Fine Arts, Boston. In 1918, he accepted a role as an official war artist and traveled to the Western Front. Sargent died in London in 1925. After his death, memorial exhibitions were held in Boston, London, and New York.

Public Programs

In conjunction with the exhibition, the MFA is hosting a five-session course (Wednesdays, November 1–December 6) that explores the multifaceted ways in which Sargent and the subjects of his portraits created meaning and messaging through fashion and dress. Together with curators and scholars, participants are invited to delve into the complexities of public image making and gain new insights into the collaborative relationship
between artist and sitter. On Thursday, November 2, the Museum hosts a panel discussion, "Fashioning Identities," with artist Jas Knight, musician Oompa and others to explore themes that rise from the exhibition, including representation, identity and styling.
Publication
Produced by MFA Publications, the new book Fashioned by Sargent presents original scholarship and beautiful reproductions of paintings by Sargent and costumes of the period, including garments worn by the sitters. Essays on a range of themes, including portraits as performances, the role of fashion in the world of art, gender expression, the new woman, old master influences, painting fashion, transnationalism, and the development of the couture industry shed fascinating new light on the beloved American painter and his subjects. Generous support for this publication was provided by the Vance Wall Foundation and the Andrew W. Mellon Publications Fund.
Inventing Isabella at the Isabella Stewart Gardner Museum
Organized in conjunction with Fashioned by Sargent at the MFA, Inventing Isabella at the nearby Isabella Stewart Gardner Museum—where Sargent was the first artist-in-residence—analyzes images of Isabella Stewart Gardner, including the artist's controversial portrait. The exhibition is on view from October 19, 2023 through January 15, 2024.
About the Museum of Fine Arts, Boston
The MFA brings many worlds together through art. Showcasing masterpieces from ancient to modern, our renowned collection of nearly 500,000 works tells a multifaceted story of the human experience—a story that holds unique meaning for everyone. From Boston locals to international travelers, visitors from all over come to experience the MFA—where they reveal connections, explore differences and create a community where all belong.
Open six days a week, the MFA's hours are Saturday through Monday, 10 am–5 pm; Wednesday, 10 am–5 pm; and Thursday–Friday, 10 am–10 pm. Plan your visit at mfa.org.
Museum of Fine Arts, Boston
465 Huntington Avenue
Boston, Massachusetts 02115
617-267-9300
Contact
Amelia Kantrovitz
617-369-3447
Cette adresse e-mail est protégée contre les robots spammeurs. Vous devez activer le JavaScript pour la visualiser.