ANDY DENZLER
FRACTURED

29 October - 21 November 2020

OPERA GALLERY
Place de Longemalle 10-12, 1204 Geneva
+ 41 22 318 57 70
geneve(at)operagallery.com
www.operagallery.com

"I am trying to get closer to reality and experiment with how
to create an emotional connection between the viewer and the subject."
Artnet interview, 6 May 2019

Opera Gallery Geneva is pleased to present Fractured, a solo exhibition featuring recent works by Swiss artist Andy Denzler.

We are creatures of habit, accustomed to living life with certain established routines. Being forced into lockdown for a few months has turned our lives upside down, has fractured our patterns and rhythms and has urged us to adapt in a short time to new ways of living. Caught in a strange time loop, this period of isolation has compelled the artist, like many of us, into an intense state of introspection and has resulted in his creating this series of highly charged canvases.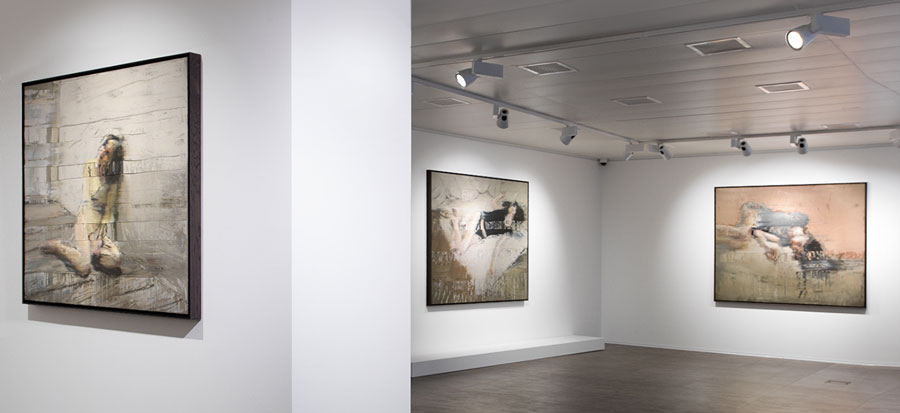 Denzler's body of work places emphasis on elements of painting and erasure, gesture and removal, distortion and reality and thrives on the ambiguity between figurative and abstract, including some elements of chance. In this recent series, his visual language is asserted by leaving areas of the canvas totally bare, contrasting strongly with the paint-covered areas, thus suggesting the profound fracture this crisis has created in our society.
Our everyday world has grown smaller. Cut off from people and places outside our homes, we have been forced to rediscover our immediate environment, which has become our safe haven. Denzler has portrayed the psychological states of the sitters in their intimate surroundings, as they engage in a moment of reflection and pause to introspect. Faces and bodies are abstracted through his unique painterly poetic language, mirroring our current conflicted states of being. However, acknowledging that something is fractured is the first step in working towards healing...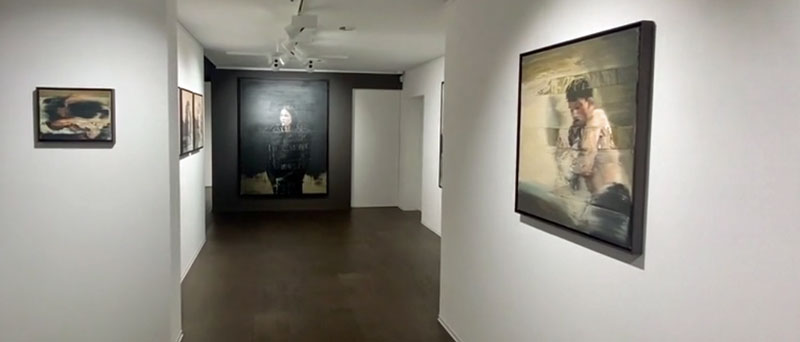 Andy Denzler was born in Zurich where he currently lives and works. He studied Fine Arts at the Kunstgewerbeschule and at the F&F Schule für Gestaltung in Zurich, at the University of Los Angeles in California and at the Art Center College of Design in Pasadena. In 2016, he obtained a Master of Fine Arts degree at the Chelsea College of Art and Design in London.
Denzler has created a signature style encompassing bands of pigment that alternate between static, thick marks and blurred, flowing sweeps. The human figure remains at the core of his explorations, courting the viewer's memories, and leaving him with a vague gnawing that he has missed something lying just beneath the surface. Perception and distortion are prominent and powerful traits of Denzler's studio practice.
His work has been exhibited in numerous solo and group shows in Europe, the United States and Asia in private and public institutions such as the Guangju Museum of Art in Seoul. He has had two important retrospectives: at the Ludwig Museum in Kolbenz and at the Kunsthalle in Dresden. In 2015, he was exhibited at the Art biennale in Beijing, in 2016 at the art biennale Marrakech and more recently at the KunstForum in Wien. His work is part of many prestigious private and public collections such as the White House in Washington DC, the Museum of Modern Art in Moscow, the Denver Art Museum, Credit Suisse, the Burger Collection in Hong Kong, the David Roberts Art Foundation in London, and the Hirshhorn Museum in Washington. A monography was recently published by Damiani.