EXPOSITION Drifting
Olivier Valsecchi
Du 5 février au 14 mars 2016
OPIOM Gallery
11 Chemin du Village
06650 Opio
France
info(at)opiomgallery.com
http://www.opiomgallery.com
http://www.oliviervalsecchi.com

Du 5 février au 14 mars 2016 OPIOM Gallery présente Drifting, la dernière série du photographe français Olivier Valsecchi qui a un parcours exceptionnel comme vous pourrez le voir dans sa biographie.
Le photographe développe depuis quelques années un travail mettant le corps au centre de ses recherches.

Sa série Dust qui a reçu le prix Hasselblad Masters l'a révélé en 2010 , il a depuis réalisé quatre séries AMAZON, DRIFTING, TIME OF WAR, KLECKSOGRAPHY selon une même même démarche créative.

Olivier Valsecchi IRIS VANITAS, 2014
80 x 120 cm, Edition of 3
La nouvelle série Drifting revisite les figures de la peinture classique tels le nu allongé ou la nature morte hollandaise du XVIIe siècle.
Photographe étonnant par la qualité de son imaginaire, il voyage à travers le temps de la peinture hollandaise du XVIIème siècle où il transpose la modernité du nu lascivement allongé avec un certain purisme
hérité de l'art baroque et surréaliste. Le photographe nous plonge dans son monde à travers la grande qualité de sa création qui nous interpelle par son esthétisme.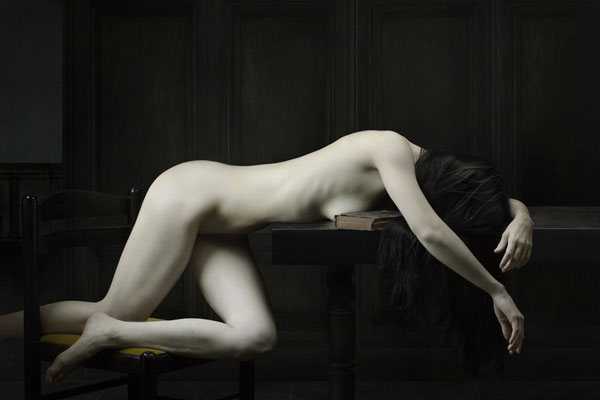 Olivier Valsecchi NEVERMORE, 2014
80 x 120 cm, Edition of 3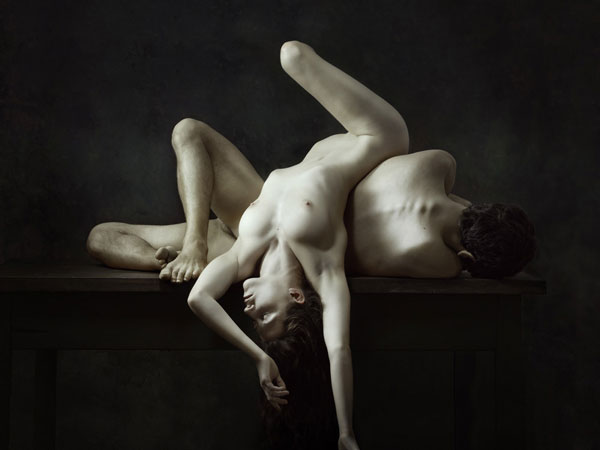 Olivier Valsecchi BLOOMING, 2014
90 x 120 cm, Edition of 3
BIOGRAPHIE DE OLIVIER VALSECCHI
AWARDS
2013
GRAND JURY MEMBER - HASSELBLAD MASTERS 2014
2012
WINNER OF HASSELBLAD MASTERS AWARDS (Fine Art category)

PUBLICATIONS (Print)
2016
REPONSES PHOTO #288(France)
2015
DIGITALIS FOTO MAGAZIN (Grece)
BEAUTIFUL BIZARRE #9 (Australia)
PSIKEART Mercy issue (Turkey)
FOTOGRAFE MELHOR #222 (Brazil)
2014
ARTE FOTOGRAFICO #638 (Spain)
NORMAL MAGAZINE (France)
YACONIC #10 (Mexico)
EXIT #53 (Spain)
VISUAL ARCHIVE #2 (US)
QUO #224 (Spain)
CLUTCHMAG #16 (France)
2013
GENTE DI FOTOGRAFIA #57(Italy)
FOTOGRAFE MELHOR #207(Brazil)
ELLE DECORATION #223 (France)
PHILOSOPHIE MAGAZINE #74 (France)
ARTE FOTOGRAFICO #634 (Spain)
PARCOURS DES ARTS #36 (France)
LE BRASIER DES SOUVENIRS Carina Rozenfeld, Robert Laffont coll. R
MUSEE MAGAZINE #6
DIGITAL SLR PHOTOGRAPHY august issue (UK)
CATALOGUE UIPF (Korea)
ORLANDO WEEKLY (US)
SANTA ART MAGAZINE #10 (Brazil)
PROFIFOTO 03/13 (Germany)
2012
PHOTO+ #32 (Korea)
AZART #59 interview by Sophie Gamand (France)
HASSELBLAD MASTERS BOOK #3 published by teNeues (Germany)
LES CENDRES DE L'OUBLI Carina Rozenfeld, Robert Laffont coll. R
THE OPERA #1 published by Kerber (Germany)
L'OFFICIEL DE LA MODE #967 (France)
ARTE FOTOGRAFICO #631 (Spain)
IMAGE IN PROGRESS #3 (Italy)
PHOTOGRAPHIE #3 (Germany)
2011
PHOTOGRAPHE #1 interview by Laëtitia Guillemin (France)
ZOOM #103 text by Elisabetta Piatti (Italy)
CATALOGUE ANGERS NANTES OPERA saison 2011-2012 (France)
ROOMS #5 (UK)
PHOTO #484 (France)
CATALOGUE FEPN (France)
BLINK #3 interview by Kim Aram (Korea)
EMPTY #20 (Australia)
LE FIGARO BEAUX-ARTS hors-série guide du marché de l'art 2011 (France)
REPONSES PHOTO #230 (France)
PHILOSOPHIE MAGAZINE #48 (France)
2010
AZARTPHOTO #8 (France)
LE MONDE 22/10/2010 supplément Le Monde des Livres (France)
KULT MAG (Italy)
EYEMAZING SPRING ISSUE text by Sarah Baxter (The Netherlands)
PHOTO #470 (France)
LE MONDE 26/02/2010 supplément Le Monde des Livres (France)
LADOS #14 interview (Spain)
CATALOGUE MANIFESTO (France)
AZARTPHOTO #7 text by Sophie Gamand (France)
PREF #35 (France)

PUBLICATIONS (WEB)
2016
STYLE MAGAZINE (Italy)
2015
STERN.DE (Germany)
WIDEWALLS (Switzerland)
CREATIVE BOOM (UK)
THE PHOTOBLOGRAPHER interview
STITCH interview (Belgium)
PHOTOGRVPHY.COM interview
THE CULTURE TRIP
APAR.TV
GRAINE DE PHOTOGRAPHE interview (France)
PROFESSIONAL PHOTOGRAPHERS MAGAZINE
DODHO (Spain)
ART SHEEP
CULTURA COLECTIVA (Mexico)
PIXFAN (France)
WUKALI (France)
BEAUTIFUL DECAY
VANGARDIST
2014
GRAINE DE PHOTOGRAPHE (France)
ARTWORT interview
SILVERSHOTZ (Australia)
DIY PHOTOGRAPHY
GRAINE DE PHOTOGRAPHE (France)
2013
LA REPUBBLICA.IT (Italy)
THE DAILY MAIL (UK)
KONBINI (France)
SLATE (France)
FUBIZ (France)
JUXTAPOZ
THE VERGE
IGNANT (Germany)
JOURNAL DU DESIGN (France)
MUSEE MAGAZINE interview (US)
RESOURCE MAG (US)
AS DE PIXEL (France)
LA DEPECHE.FR (France)
ART TRIBUNE (Italy)
PARIS ART (France)
EMPTY KINGDOM
2012
GUSMEN
FRANCE GAZETTE
2011
FNAC.COM (France)
PIXFAN (France)
ARTBOOKGUY interview (US)
2010
MY MODERN MET (US)
LOST AT E MINOR (US)
ART MAGAZIN interview (Germany)
IDEAFIXA #17 (Brazil)
SQUARE MAGAZINE #1.4 (France)
500 PHOTOGRAPHERS Photographer #033
DOZE issue #2 (Spain)
PDN Photo of the day (US)
ART NOUVEAU artist of the week (US)

EXHIBITIONS
2016
OPIOM GALLERY, solo show, Opio (France)
2015
ART WYNWOOD, with Opiom Gallery, Miami (US)
FESTIVAL D'ART CONTEMPORAIN RATS D'ART, Toulouse (France)
2014
CONTEXT ART MIAMI, with Opiom Gallery, Florida (US)
SQUARE AU CARRÉ, group show at Galerie Le Carré d'Art curated by Square Magazine, Rennes (France)
AFFORDABLE ART FAIR HONG KONG, with Opiom Gallery (Japan)
OFF BRUXELLES, with Galerie Cédric Bacqueville (Belgium)
2013
OPIOM GALLERY, group show opening, Cannes (France)
LE CHÂTEAU D'EAU, Mois de l'image, Toulouse (France)
FOTOFEVER BRUSSELS, solo show with Galerie Céline Moine (Belgium)
GALERIE CÉDRIC BACQUEVILLE, Inaugurations partagées, Lille (France)
ULSAN INTERNATIONAL PHOTOGRAPHY FESTIVAL, "Stillness in movement" (Korea)
CUTLOG NEW YORK, with Galerie Céline Moine, New York (US)
SNAP! ORLANDO, "Motion to Light", Florida (US)
KYOTOGRAPHIE, with Hasselblad Masters (Japan)
LILLE ART FAIR, group exhibition with Galerie Cédric Bacqueville (France)
2012
HASSELBLAD MASTERS TOUR group exhibition (London, Los Angeles, New York City, Berlin, Korea)
FOTOFEVER BRUSSELS, group exhibition with Galerie Céline Moine (Belgium)
PHOTOKINA, Hasselblad Masters Book exhibition, Cologne (Germany)
GALERIE MAUBERT, "Le sacre du printemps", group exhibition, Paris (France)
CENTRE ATLANTIQUE DE LA PHOTOGRAPHIE, Galerie du Quartz, solo exhibition, Brest (France)
LILLE ART FAIR, with Rize Art Gallery, Lille (France)
RAW ART FAIR, with Rize Art Gallery, Rotterdam (The Netherlands)
2011
FOTOFEVER PARIS, group exhibition with Galerie Céline Moine, Paris (France)
AFFORDABLE ART FAIR, with Doinel Gallery, North London (England)
LINEART, with Doinel Gallery, Flanders (Belgium)
RESONANCE, BIENNALE DE LYON, Espace Ricard, "Photographie Onirique" with Céline Moine (France)
ART GALLERY 826, "Photography and sculpture", with Doinel Gallery, Knokke (Belgium)
FESTIVAL REGARDS PHOTOGRAPHIE, Villeneuve de la Rivière (France)
FOTOFESTIVAL NAARDEN, FESTIVAL-OFF, with Rize Art Gallery (The Netherlands)
FOTOGRAFIAEUROPEA FESTIVAL, OFFSET REVOLT, "Le Voyage Initiatique", Officina delle Arti, Reggio Emilia (Italy)
FESTIVAL EUROPEEN DE LA PHOTOGRAPHIE DE NU, Chapelle Sainte-Anne, Arles, with Galerie Céline Moine (France)
2010
GALERIE FOKUS, solo exhibition, Graz (Austria)
FESTIVAL MANIFESTO, Galerie Photon & Port Viguerie, Toulouse (France)
PROMENADES PHOTOGRAPHIQUES DE VENDÔME, Parc du Château, Vendôme (France)