THE MENIL COLLECTION PRESENTS PHOTOGRAPHY AND THE SURREAL IMAGINATION
ON VIEW NOW THROUGH JUNE 14 - 2020

Events During Houston's FotoFest Biennial 2020 Include Talks by Artist Allison Janae
Hamilton and Curator Natalie Dupêcher, a Lecture by Author David Campany, and a Special Musical Performance

HOUSTON, TEXAS, February 24, 2020 – Drawn from the Menil Collection's renowned holdings of Surrealist art and from extraordinary loans from Houston collections, the exhibition Photography and the Surreal Imagination is on view at the Menil Collection now through June 14, 2020.
Presenting 62 works that span the years from Surrealism's eruption in the 1920s to the present day, the exhibition reveals how photographers during and after the Surrealist movement have explored and distorted the human form, manipulated the photographic surface, and used the camera to transform the familiar into the uncanny. Photography's inherent tension between documentation and invention emerges in the exhibition as the generative force that has made this medium so productive for artists working in the wake of Surrealism.

Tirée des collections renommées d'art surréaliste de la collection Menil et des prêts extraordinaires des collections de Houston, l'exposition Photography and the Surreal Imagination est à l'affiche à la collection Menil jusqu'au 14 juin 2020. Présentant 62 œuvres qui couvrent les années de l'éruption du surréalisme dans des années 1920 à nos jours, l'exposition révèle comment les photographes pendant et après le mouvement surréaliste ont exploré et déformé la forme humaine, manipulé la surface photographique et utilisé l'appareil photo pour transformer le familier en inquiétant. La tension inhérente à la photographie entre documentation et invention émerge dans l'exposition comme la force génératrice qui a rendu ce médium si productif pour les artistes travaillant dans le sillage du surréalisme.

George Platt Lynes, Untitled, 1941. Gelatin silver print,
9 9/16 × 7 5/8 in. (24.3 × 19.4 cm).
The Museum of Fine Arts, Houston,
The Allan Chasanoff Photographic Collection, 91.849.
© George Platt Lynes Estate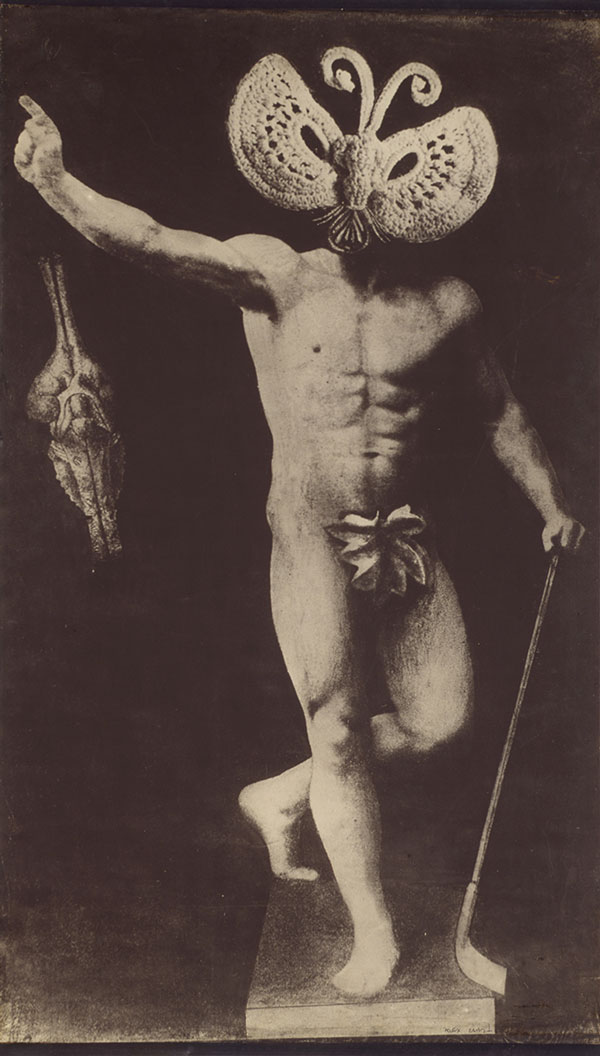 Max Ernst, Health through Sport (La santé par le sport), ca. 1920.
Gelatin silver print mounted on board, 39 3/8 × 23 5/8 in. (100 × 60 cm).
The Menil Collection, Houston. © Artists Rights Society (ARS), New York / ADAGP, Paris
A series of free public events, many scheduled to coincide with Houston's FotoFest Biennial 2020, will accompany the exhibition. These include an artist talk by Allison Janae Hamilton about her works in the
exhibition, a talk by exhibition curator Natalie Dupêcher, a lecture by noted author and photography curator David Campany, and a musical performance by the Da Camera Young Artists in response to the artworks. The Menil Collection will also present a free outdoor screening of short films inspired by Surrealism in May, after Fotofest Biennial 2020 has ended.
Une série d'événements publics gratuits, dont beaucoup devraient coïncider avec le Houston FotoFest Biennial 2020, accompagnera le exposition. Il s'agit notamment d'une conférence d'artiste d'Allison Janae Hamilton sur ses expositions, une conférence de la commissaire de l'exposition Natalie Dupêcher, une conférence d'un auteur commissaire d'exposition David Campany, et une performance musicale du Da Camera Young Des artistes en réponse aux oeuvres. La Collection Menil présentera également un extérieur gratuit projection de courts métrages inspirés du surréalisme en mai, après la fin de la Biennale Fotofest 2020.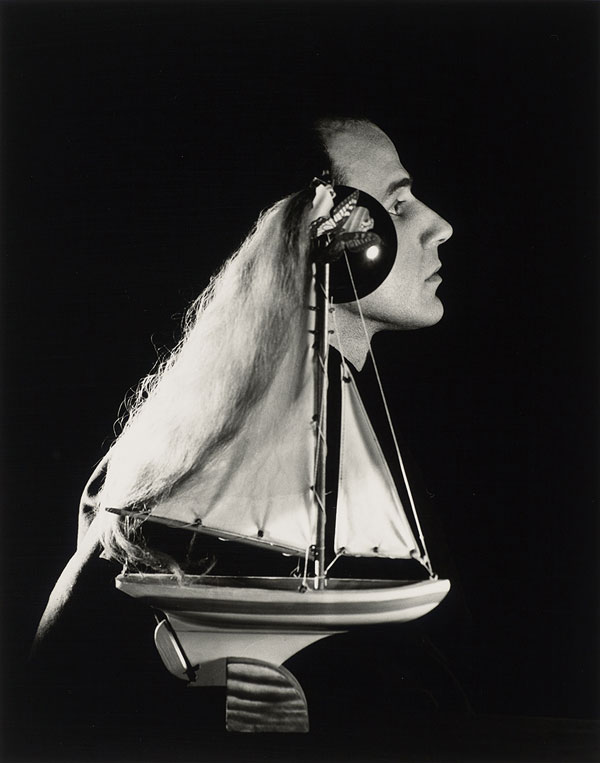 Lee Miller, Joseph Cornell, 1933, printed ca. 1988.
Gelatin silver print, 12 1/16 × 9 1/2 in. (30.6 × 24.1 cm).
The Museum of Fine Arts, Houston, Gift of Clinton T.
Willour in memory of Dominique de Menil, 98.20. © Lee Miller Archives
Menil Director Rebecca Rabinow said, "As a seemingly objective, mechanical medium, once known as 'the pencil of nature,' photography would seem to be ill-suited to the project of André Breton, author of The Surrealist Manifesto, in his desire to reveal the 'real functioning of the mind' through 'pure psychic automatism.' And yet, while many artists affiliated with the movement cultivated drawing and painting techniques that they believed to be outside their conscious control, photographers created many of Surrealism's most iconic images. We are thrilled to present an extraordinary selection of these photographs as an expansion of our existing display of Surrealist art, which transform our familiar world by illuminating its eroticism, menace, and mystery."
La directrice de Menil, Rebecca Rabinow, a déclaré: «En tant que support mécanique apparemment objectif, autrefois connu comme« le crayon de la nature », la photographie semble mal adaptée au projet d'André Breton, auteur du Manifeste surréaliste, dans son désir de révélé le "vrai fonctionnement de l'esprit " à travers " l'automatisme psychique pur ". Et pourtant, alors que de nombreux artistes affiliés au mouvement cultivaient des techniques de dessin et de peinture qu'ils croyaient hors de leur contrôle conscient, les photographes ont créé de nombreuses images les plus emblématiques du surréalisme. Nous sommes ravis de présenter une sélection extraordinaire de ces photographies comme une extension de notre exposition existante d'art surréaliste, qui transforme notre monde familier en illuminant son érotisme, sa menace et son mystère. »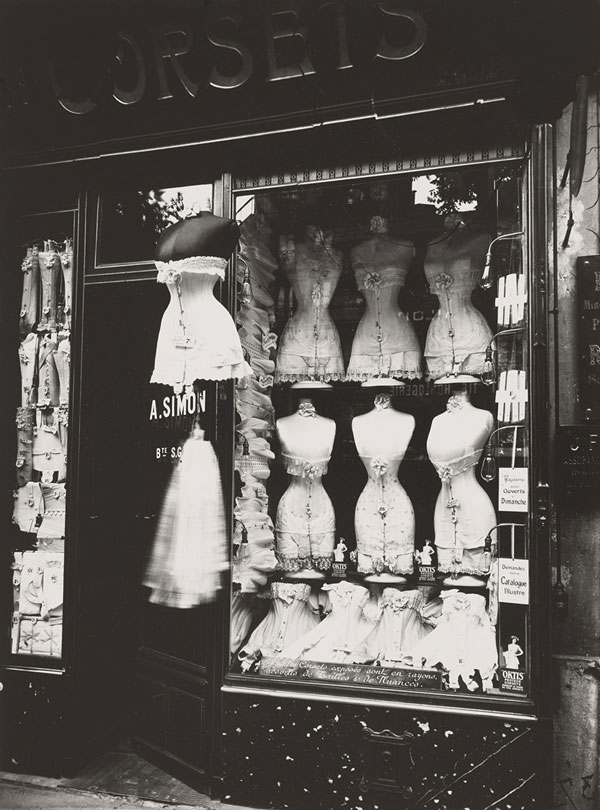 Eugène Atget, Boulevard de Strasbourg, Corsets, 1912, printed later.
Gelatin silver print, 9 1/4 × 6 7/8 in. (23.5 × 17.5 cm).
The Menil Collection, Houston
Assistant Curator of Modern Art Natalie Dupêcher said, "The Surrealists seized on the camera's potential to be a tool not merely for reproducing the visible but for reshaping, questioning, and disturbing our perception of reality. This understanding of photography's potential continues in our own time, when themes such as the exploration of the body, the manipulation of the image, and the transformation of the everyday remain fruitful avenues for contemporary artists.
We look forward to sharing these ideas through the works themselves and through the rich series of public programs we are offering in conjunction with the exhibition."
La conservatrice adjointe de l'art moderne, Natalie Dupêcher, a déclaré: «Les surréalistes ont saisi le potentiel de la caméra pour être un outil non seulement pour reproduire le visible mais pour remodeler, questionner et perturber notre perception de la réalité. Cette compréhension du potentiel de la photographie se poursuit à notre époque, lorsque des thèmes tels que l'exploration du corps, la manipulation de l'image et la transformation du quotidien restent des pistes fructueuses pour les artistes contemporains. Nous sommes impatients de partager ces idées à travers les œuvres elles-mêmes et à travers la riche série de programmes publics que nous proposons en conjonction avec l'exposition. »
Photography and the Surreal Imagination begins with an examination of the transformation of the everyday through the lens in a tradition that recasts the world as an enigmatic theater, from Eugène Atget's views of Old Paris to Allison Janae Hamilton's haunted, folkloric evocations of the American South. Photographs that foreground the exploration of the body include Hans Bellmer's images of deconstructed dolls and Cindy Sherman's cinematographic self-staging, among other depictions of costumed, distorted, or fragmented figures. Photographs that foreground image manipulation include works by artists from Man Ray to Lorna Simpson who have turned the surface of the image into a collision of pictorial fragments that question the nature of representation.
La photographie et l'imagination surréaliste commence par un examen de la transformation du quotidien à travers l'objectif dans une tradition qui refait le monde comme un théâtre énigmatique, depuis les vues d'Eugène Atget sur le Vieux Paris jusqu'aux évocations hantées et folkloriques d'Allison Janae Hamilton du Sud américain. Les photographies qui mettent en avant l'exploration du corps incluent les images de poupées déconstruites de Hans Bellmer et l'auto-mise en scène cinématographique de Cindy Sherman, entre autres représentations de personnages costumés, déformés ou fragmentés. Les photographies qui manipulent l'image au premier plan comprennent des œuvres d'artistes de Man Ray à Lorna Simpson qui ont transformé la surface de l'image en une collision de fragments picturaux qui remettent en question la nature de la représentation.
Photography and the Surreal Imagination is curated by Natalie Dupêcher, Assistant Curator of Modern Art. It is installed adjacent to the Menil's Surrealism galleries.
This exhibition is generously supported by the City of Houston.
La photographie et l'imagination surréaliste est organisée par Natalie Dupêcher, conservatrice adjointe de l'art moderne. Elle est installée à côté des galeries surréalistes de Menil.
Cette exposition est soutenue par la ville de Houston.
About the Menil Collection
Houston philanthropists and art patrons John and Dominique de Menil established the Menil Foundation in 1954 to foster greater public understanding and appreciation of art, architecture, culture, religion, and philosophy. In 1987, the Menil Collection's main building opened to the public. Today, thirty-three years later, the Menil Collection consists of a group of five art
buildings and greenspaces located within a residential neighborhood. The Menil embodies the ideals and values of its founders, in particular, that art is vital to human life and should be readily accessible to all persons. Access to all museum galleries, greenspaces, and parking is free of charge.
On view at the Menil
Collection Close-Up: Of Heaven and Earth – on view through March 15, 2020
Think of Them as Spaces: Brice Marden's Drawings – on view through June 14, 2020
Wall Drawing Series: Jorinde Voigt – on view through Summer 2020
Si Lewen: The Parade – opening April 24, 2020
Allora & Calzadilla: Specters of Noon – opening May 15, 2020
Find the Menil Online