Description du livre: Edition Association des amateurs de Peinture, achevé d'imprimer le 15 février 1950. in-folio, 2 cahiers (titre et préface), 10 lithographies originales et 2 gravures originales, numérotées et signées au crayon avec 1 feuillet de texte en regard (poème), 1 cahier de justification de tirage, tiré à 180 exemplaires, un des 46 exemplaires numérotés HC 135 à HC 180 exemplaire hors commerce H.C. 135 sur Marais Crève-Coeur ; en feuilles, sous couverture illustrée.

Exemplaire complet en parfait état sauf l'emboitage qui corporte quelques défauts 12 textes poétiques, chacun accompagnés d'une lithographie originale. Lucien Becker, Krol - René Guy Cadou, Jean Vinay - Jean Cayrol, Maurice Rocher - Gino Della Franca, Rubington - Pierre Descargues, Glodeck Miailhe - Maurice Fombeure, Maurice Verdier - Jacques Hébertot, André Minaux - Loys Masson, Gaétan De Rosnay - Frédéric Maigné, Roger Montane - Jean Rousselot, Robert Savary - Toursky, Roger Dérieux - Guy Weelen, Paul Aizpiri. Ce livre présente un intérêt historique car tous ces artistes sont les représentants de la "Jeune Peinture des années 50. Remarquable préface de René HUYGHE académicien qui a été également le Conservateur du Musée Jacquemard André et du Musée du Louvre.

Prix : 450 EUR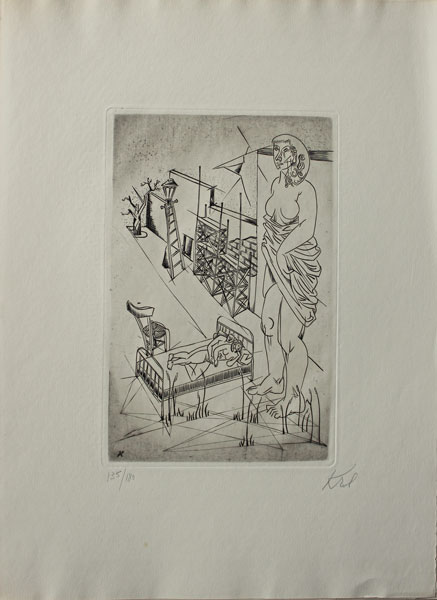 Abram Krol Original engraving for the poem En te renversant sur le lit by Lucien Becker
Abram (Abraham) Krol was born in Pabianice, Poland, in 1919. An Hasidic Jew, whose masterwork is an edition of the Torah with 187 engravings, he emigrated to France in 1938, where he spent the rest of his life. Krol's first intention was to become a civil engineer, to which end he enrolled at the University of Caen. When war was declared in 1939 he joined the Foreign Legion. Krol was demobilised in Avignon, where he worked as a mechanic in a garage, while devoting his sundays to a course in sculpture at the Beaux-Arts, Avignon. From 1943, he also began to paint. Armed with false identity papers, Krol went to Nazi-occupied Paris. There, after the war, he learned the art of engraving from Joseph Hecht. His first exhibition was in 1946 at the galerie Katia Granoff; his most recent was in 2008 at the Dijon public library. In 1960 he was invited to exhibit at the Venice Biennale. Alongside his copious output of individual engravings, from 1949 Krol began creating livres d'artiste; in 1952 he won both the prix du livre illustré and the prix Daragnès. In Britain, Krol's achievement was honoured in the 1994 exhibition at the V&A, Three Masters of Engraving: Roger Vieillard, Albert Flocon, Abram Krol.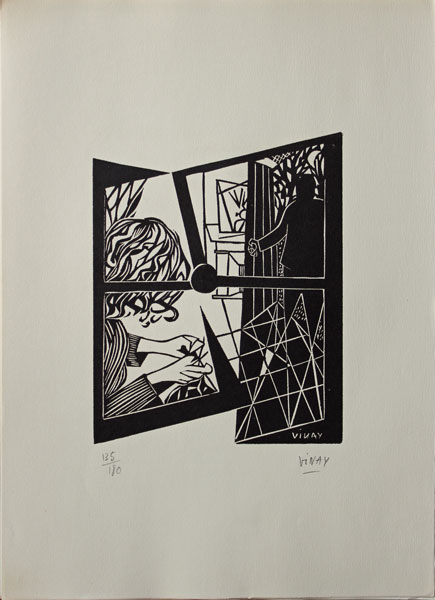 Jean Vinay Original linocut for the poem Quelque part et plus loin encore by René Guy Cadou
Jean Vinay was born in Saint-Marcellin (Isère) in 1907. He went to Montmartre, Paris in 1933, supporting himself with odd jobs while he formed his art without any formal training. He did receive advice from the Fauve painter Albert Marquet, whom he knew in Algeria where both had fled the German occupation; Marquet allowed Vinay to work in his studio. Jean Vinay returned to Paris in 1946, exhibiting in group shows and the Paris salons, and having solo shows at the galerie Raspail and galerie Durand-Ruel. Many exhibitions later, Jean Vinay was accorded a retrospective, 40 ans de peinture de Jean Vinay, at the Abbaye Saint-Antoine, where a Musée Jean Vinay was established in 1979, the year after his death.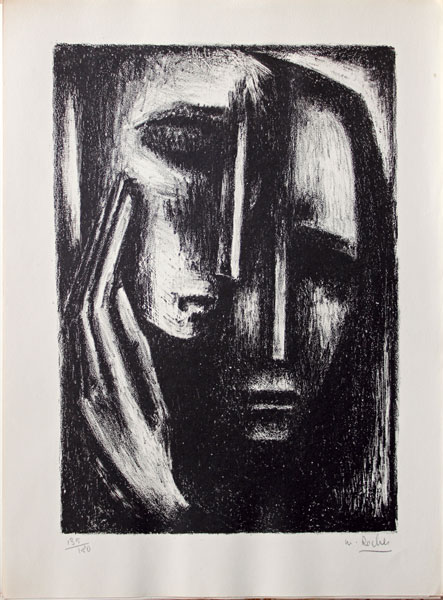 Maurice Rocher Original lithograph for the poem J'arriverai a défaire la mort by Jean Cayrol
Maurice Rocher was born in Évron (Mayenne) in 1918. He studied at the school of applied arts in Mans from 1934-1936. After a time in Belgium, where he made connections among the Belgian Expressionists, Rocher entered the Atelier de l'Art Sacré run by Maurice Denis and Georges Desvallières. This was a significant choice of art school, for Rocher was to become one of the major religious artists of the twentieth century. In 1948 he was one of the founders of the Centre d'Art Sacré, at which he taught until 1952. In 1949 he was one of the laureates of the Hallmark Prize, with a painting entitled La Nativité; in 1952 he won the Priz de la Jeune Peinture. From 1965 Rocher largely abandoned overtly religious themes, instead painting the human condition from a point-of-view of spiritual torment. He died in 1995. He was one of the artists of the Gallery Emmanuel David.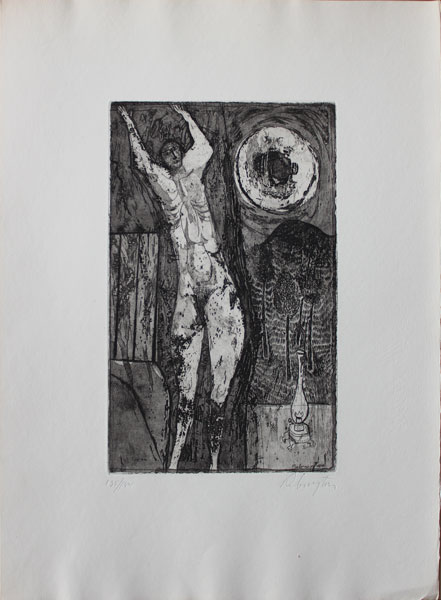 Norman Rubington Original etching with aquatint for the poem Le matin suit le matin by Gino Della Franca
Norman Rubington (1921-1991) studied at Yale before serving in WWII as a mapmaker. After the war he went to Paris, supported by his GI loan, to become an artist. There, Norman Rubington became a central figure of the group of existentialist ex-pats centered around the Paris Revue and Merlin, who included Alexander Trocchi, Richard Seaver, and Christopher Logue. Like others in this group, Rubington supplied erotic fiction to the Olympia Press list, writing under the pseudonym Akbar del Piombo. Some of these novels were illustrated by Rubington with collages in the manner of Max Ernst's Une semaine de bonté. At the same time, Rubington was establishing a successful career as a serious artist. He competed for and won the prestigious Prix de Rome, subsequently spending three years in that city. He also won the Guggenheim and Tiffany Awards, and the Religious Arts Award for his work in churches, including a Crucifixion in the Grace Cathedral, San Francisco. Rubington returned to the USA in the early 1970s. There was a retrospective at the Berman Museum of Art in 2005, Norman Rubington: Full Circle.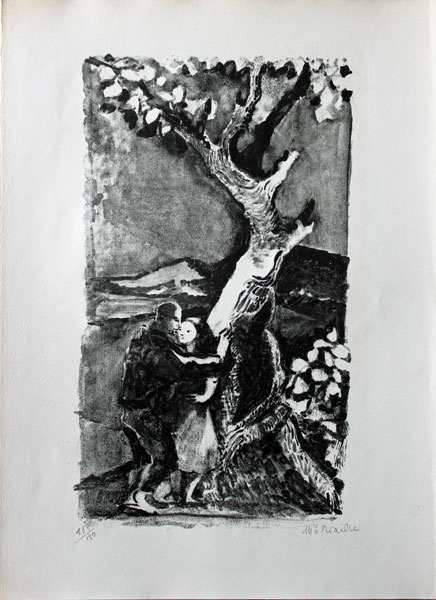 Mireille Glodek Miailhe Original lithograph for the poem Le boniment mythologique by Pierre Descargues
Mireille Glodek Miailhe was born in Paris in 1921, into an East European Jewish family. She received early artistic advice and encouragement from the painter Mané-Katz, a friend of Chagall. A passionate anti-fascist, Mireille Glodek was active in the French Resistance in Toulouse, and married one of its leaders, Jean Miailhe, After the war she found her natural artistic home in the Salon de la Jeune Peinture (so named from 1953), which was the focus of leftwingers, radicals, and existentialists in the graphic arts. In 1950 Mireille Glodek Miailhe won the prestigious Prix Fénéon. In 1952 she travelled to Algeria to document conditions there, accompanied by the artist Boris Taslitzky and the poet Jacques Dubois, which resulted in the book Deux peintres et un poète retour d'Algèrie (1952). Mireille Glodek Miailhe is slowly being recognized as one of the most important female voices in French art since WWII, with the publication in 2007 of the first book on her work, Froment & Rollin-Royer, Mireille Glodek Miailhe, Oeuvres. Hers is the only print in my copy to be signed in the stone, but not pencil-signed.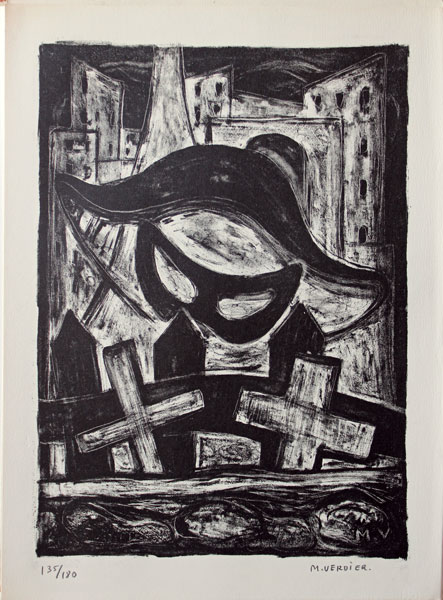 Maurice Verdier Original lithograph for the poem Que d'animaux! by Maurice Fombeure
Maurice Verdier was born in Paris in 1919. He studied at the École des Beaux-Arts, Paris, where he allied himself with fellow-students Gaëtan de Rosnay, Paul Aïzpiri, and Roger Montané. This group of colourful post-war neo-realists was influenced by the work of Bernard Buffet and André Minaux. Maurice Verdier began exhibiting in group shows and the Paris salons in 1944. His first solo show was at the galerie Roux-Hentschel in 1947. There followed a long association with the galerie Francis Barlier, culminating in a retrospective in 1997, since when Verdier has exhibited with the galerie Déprez-Bellorget.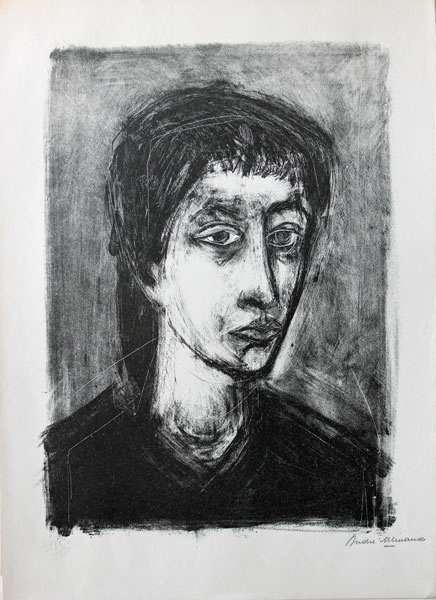 André Minaux Original lithograph for a poem by Jacques Hébertot (title unknown)
André Minaux (1923-1986) is well-known internationally as a painter, sculptor, and printmaker. Minaux was born in Paris, and studied at the École des Arts Décoratifs with Brianchon. André Minaux won the Prix de la Critique in 1949; in the previous year he made his first lithographs in the Mourlot studio. In the following decades Minaux made a great number of lithographs, almost all printed by Mourlot. He also executed drypoints, etchings, and engravings on copper.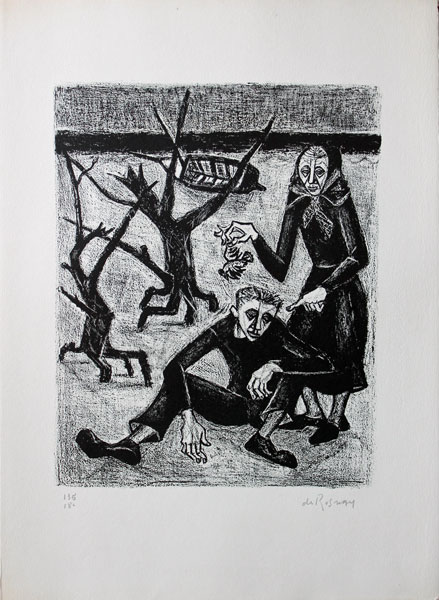 Gaëtan de Rosnay Original lithograph for the poem Essai d'un cantique de pitié a la craie by Loys Masson
Gaëtan de Rosnay, who was of Basque origin, was born in Mauritius (l'Île Maurice) in 1912, and died in Villeneuve-sur-Yonne in 1992. In 1930 he entered the atelier of Paul Colin, learning the arts of the poster and of set design for the theatre. In 1934 he returned to Mauritius to work on a plantation. In 1939 he returned to France, intending to devote himself to his art, and to spend the summers in his native Basque country. Demobilised in 1940, Gaëtan de Rosnay returned to his family in Biarritz. To avoid being sent to Germany as forced labour (Service du travail obligatoire), de Rosnay hid in a small apartment, painting only what he could glimpse from his window. After the war Gaëtan de Rosnay allied himself with other neo-realist young painters in a movement that came to be known as "misérabilisme", the graphic equivalent of Sartre's existentialism. These painters included Bernard Buffet, André Minaux, Maurice Verdier, Roger Montané, and a fellow-Basque, Paul Aïzpiri. Gaëtan was one of the founders of the Salon de la Jeune Peinture, and co-founded of the Biennale de Paris. Among his honours were the Prix Robert Antral in 1951 and the Prix de la Société nationale des Beaux-Arts in 1956. As well as producing paintings, lithographs and silkscreens, Gaëtan de Rosnay put his early training in set design to good use, creating the decor and costumes for Albert Camus' play Les Justes at the théatre Hébertot in 1949.
Roger Montané Original lithograph for the poem Le bel anneau by Frédéric Maigné
Roger Montané, born in Bordeaux in 1916, was championed by Quentin Bell as one of a new wave of French realists, along with André Minaux, Jean Vinay, and Ginette Rapp. By using the word realist, Bell was contrasting Montané with abstract artists; stylistically, Roger Montané is very much a post-impressionist with a special debt to Pierre Bonnard. Like Bonnard, Roger Montané revels in light, colour and texture. It is very difficult to convey on a computer screen the intense saturation of colour in his work. In 1977 Roger Montané was elected one of the official Peintres de la Marine.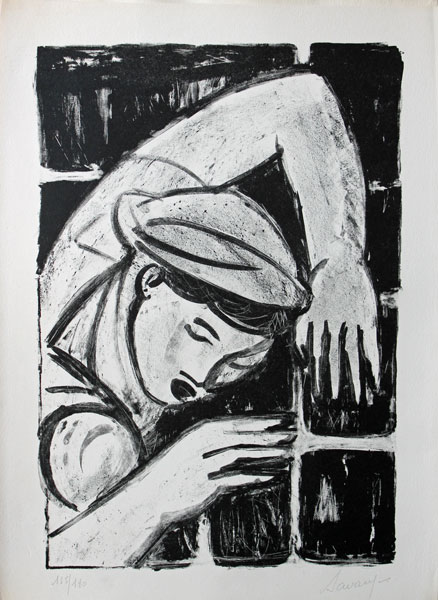 Robert Savary Original lithograph for the poem Nous portons notre sang by Jean Rousselot
Maurice Robert Savary, usually known simply as Robert Savary, was born in Paris in 1920. He studied at the École des Beaux-Arts de Paris under Nicolas Untersteller and Maurice Brianchon, between 1940 and 1949. In 1950 he won the Prix de Rome. On his return from Italy, Robert Savary was appointed professor at the École des Beaux-Arts de Rouen. From 1957 he settled in Paris, spending his summers in Collioure.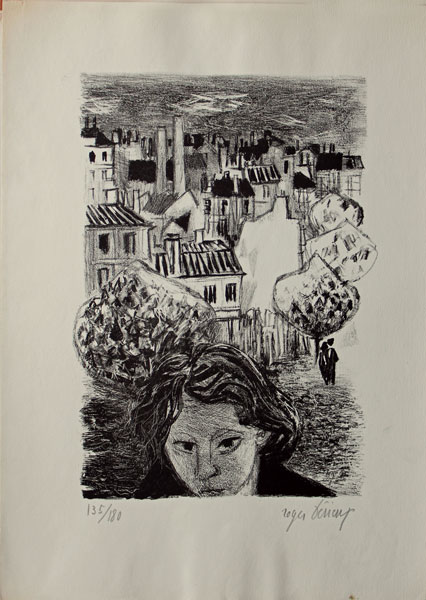 Roger Dérieux Original lithograph for the poem Le mauvais pays by Toursky
Roger Dérieux was born in Paris in 1922, and has divided his life between Paris and the Ardèche. He studied at the Académie de la Grande Chaumière and the École des Arts Décoratifs. He also received advice and encouragement from Francis Picabia. He started exhibiting in 1951, and has since had numerous collective and solo shows, most recently at the Galerie Olivier Nouvellet, Paris, in 2005, and at L'atelier de Cheyne, Le Chambon-sur-Lignon, in 2007. There was a major retrospective in Lyon in 1987. Influenced by Cubism, the art of Roger Dérieux has grown increasingly abstract, especially in his collages.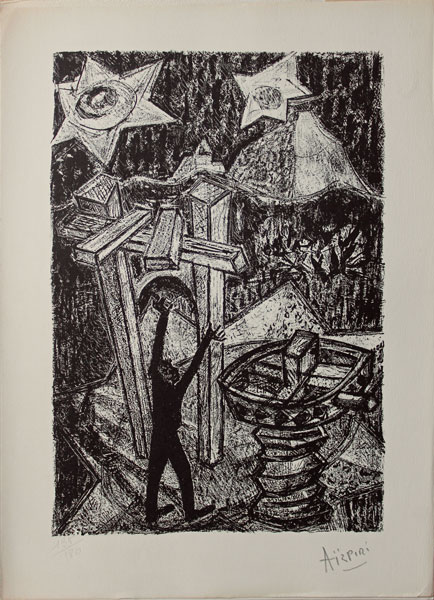 Paul Aïzpiri The original print by Paul Aïzpiri for the poem Tapisserie des trios soleils by Guy Weelen is missing
Paul Augustin Aïzpiri was born in Paris in 1919, but raised in his ancestral Basque country; his Basque heritage is said to have influenced the hot colours and expressionist style of his work, though a more likely explanation lies in the artist's great admiration for Vincent Van Gogh. Paul Aïzpiri studied at the Beaux-Arts, Paris, for three years from the age of 17, in the studio of Sabatté. At first Aïzpiri struggled to establish himself as an artist, making a living by repairing furniture and cleaning pictures, before achieving success. In 1939 Paul Aïzpiri escaped from a German prisoner of war camp in Brittany and made his way back to Paris. In 1946 Aïzpiri won a prize at the Salon de la Jeune Peinture, where he exhibited alongside artists such as Bernard Buffet and André Minaux. In the years following WWII, Paul Aïzpiri exhibited to great acclaim all over the world; his art is particularly appreciated in Japan. In the absence of his contribution to Douze poets, douze peintres, here is a colour lithograph by Aïzpiri from 15 years later:
Paul Aïzpiri Pasiphaë, 1965